---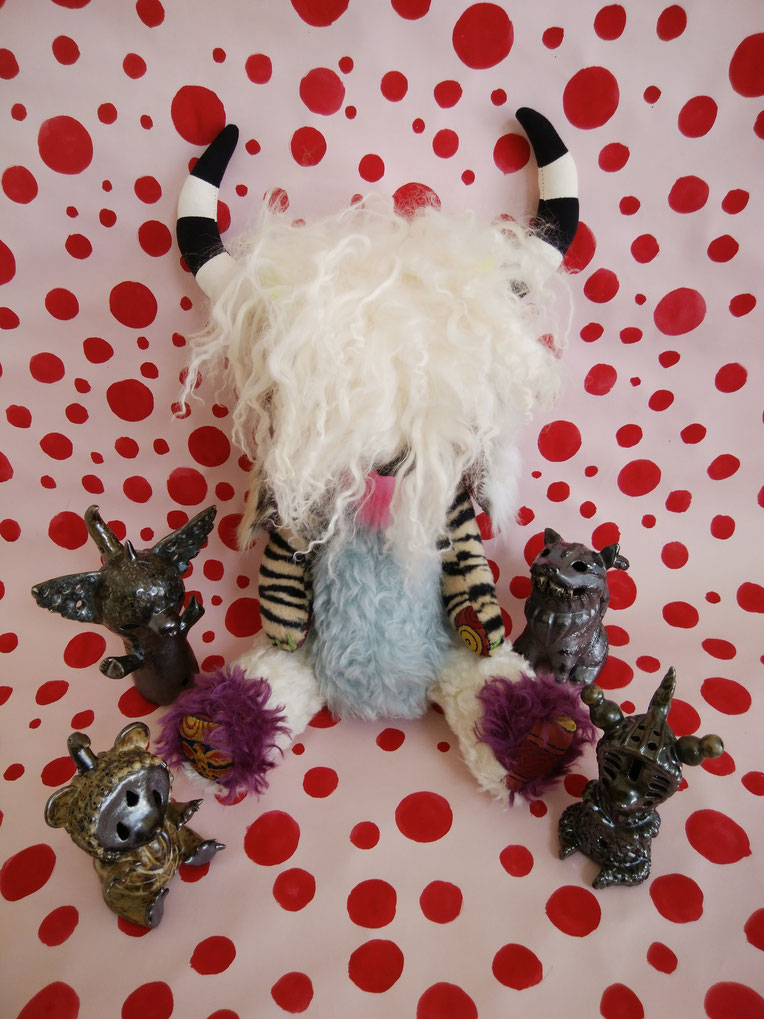 ヌイグルミ系造形作家のミヤタケイコさん。独自のその作品世界は、異素材も積極的に取り入れ、近年深化を見せています。
登り窯で焼成した、陶による動物たち。古来より「神使」としてさまざまな動物たちが祀られてきました。
弥生三月桃の節句もあり、魅力を湛えた異形たちが白いナユタを彩ります。
(佐藤香織)
Keiko Miyata is an artist who calls herself as a "stuffed-animallike-sculpture creator",
because she first started her career as a stuffed-animal designer. 
Her unique world now expands with various materials including woods and ceramics, showing the process of deepening further in recent years. 
In Miyata's latest exhibition you can meet many ceramic animals fired in the climbing kiln.
From ancient times, people have been worshipping various animals as messengers between gods and people.
As it's March, the season for Peach and Doll Festival, Miyata's mysterious and fantastic figures will colour the white space of Nayuta.
---
ミヤタケイコ /ヌイグルミ系造形作家

短大で絵画を専攻後、ぬいぐるみデザイナーになる。 
あるとき舞台美術に触発され1994年から創作活動を始める。
独自のカラーを持つ、様々な動物がMIXされたような大小奇妙な動物を制作している。
架空のものだがある意味生きているような作品作りを心がけている。
そのため素材は様々なものを試行錯誤しながら使用。(最近は木や陶器等)
東京を中心にギャラリーでの展示やグループ展などに参加。海外での展示も多数。
子どもから大人まで楽しめるワークショップも随時行っている。
Keiko Miyata / Stuffed-animallike- sculpture creator
Worked as a stuffed animal designer after graduation from the junior college with a major in painting.
Inspired by a certain stage design, she started her career as an artist in 1994.
Since then she has been creating unique, strange animallike sculptures from small to large in size,
as if different sort of animals are mixed in her imagination.
Miyata's animals are imaginary, but she intends to make them look alive.
Through making many attempts she chooses a variety of materials, and lately she often uses wood and ceramic.
Joins many exhibitions in Tokyo and other cities in Japan and overseas.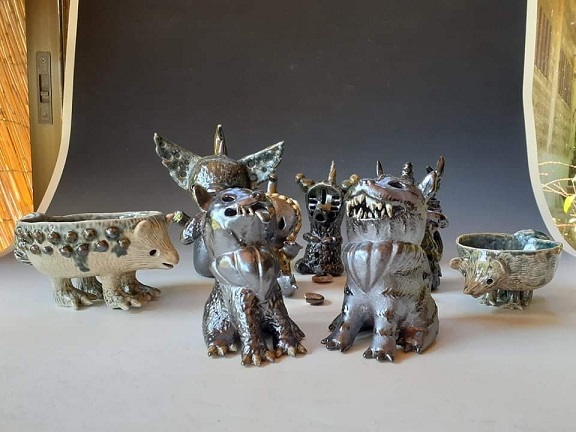 ミヤタケイコ展「DAN-DAN-DERU-ME だんだん出る芽」
Keiko Miyata Exhibition [DAN-DAN-DERU-ME] 
2022. 2.28 (Mon) - 3.13 (Sun)       
12:00 - 19:00   Lastday - 17:00    水曜休廊 Wednesday Closed
---